Defenseman attended his first NHL boot camp four years after drafting and earning a college degree in business administration.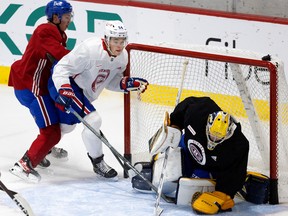 Article content
Four years ago, defender Jordan Harris really drew my attention to the Canadian development camp.
Article content
The Canadians had selected Harris in the third round (71 total) in the 2018 NHL Draft from Kimball Union High School in New Hampshire. He really stood out to me at that camp as a beautiful skater who could move quickly and easily around the ice and wasn't afraid to join in abusive Accelerates.
Article content
I wrote a column at the end of that development camp Published under the headline: "The prospect of Canadians Jordan Harris is worth pursuing."
Four years later, Harris is attending his first bootcamp in the Canadians after playing his first 10 NHL games last season after graduating from Northeastern University.
NCAA rules don't allow college players to attend NHL boot camps, but Harris doesn't regret his decision to stay in school for a full four years while earning a degree in business and becoming a Northeastern leader.
Article content
"That was the plan," Harris said Tuesday after wrapping up the Canadian junior camp at the Bell Sports Complex in Broussard. "I definitely wouldn't change anything. I was lucky to be able to get my degree and finish my studies there and then end up here in Montreal."
Harris was among 74 players who reported physical and medical exams on Wednesday as the main training camp opened at Broussard. The players will hit the ice for the first time Thursday morning and Harris has a very good chance to start the season with the Canadians.
When asked about the biggest improvement since his first development camp, Harris said, "Everything. From all sides, on and off the ice. Physically, emotionally and even socially. I had the opportunity to be a captain this year. There are a lot of things that come with being a hockey player. You see The side on the ice – it's always the end product everyone sees – but there's a lot that comes with it. I learned a lot during those four years."
Article content
On the importance of earning his degree, Harris said, "It's kind of my upbringing. You take pride in that and everything I do, do the best I can. I've always wanted to finish my degree, and fortunately, I can complete it in four years and now have it for the rest of my life." And it was more than that. Also on the ice, maturity is wise, and everything combined. The grade is the cherry on top."
Article content
While former General Manager Mark Bergiveen drafted Harris, the 22-year-old defending man has a long relationship with new GM Kent Hughes going back to Harris' young hockey days in the Boston area, where he grew up as a big fan of the Bruins.
"We used to have our fights because he trained the Eagles and they played on flames," Harris recalls. "We were always the two best teams in the league and our coaches never liked each other. So I grew up kinda not loving him or his son, Riley. Then we ended up playing together and Kent coached me in high school. He did a great job here and I think he's going to do a great job. going forward."
Harris could become a key player for the Canadiens as Hughes attempts to get the franchise back on track after finishing with the worst record in the NHL last season.
Article content
"I don't really see hockey as a job," Harris said. "It's a privilege to be out there and play, especially for a Canadian organization. I feel like a day that you look at as a job and a business is probably not the best thing. I have a lot of fun playing it. It's really the highlight of my day when I go to the rink and compete and laugh I see all the players.
"It's your job at the end of the day, but I don't really treat it any differently."
Article content
Four years ago, Harris impressed me on ice and just as much – if not more – than on ice when I interviewed him. He was a smart, polite and well-spoken young man at the time and is even more so now. It also impressed Rob Ramage, Canadian Player Development Director, both on and off the ice.
"He got his diploma," Ramage said Tuesday. "He's going to have a life after hockey, unless he makes a lot of money you don't have to worry about him. He was a captain, he was a captain, a key man for their team (Northeastern). He's a great guy. I've always said that if he wasn't a hockey player, he could be president." the United States in the future.
Harris laughed when he told about Ramage's comment.
"He didn't say that to me," Harris said of becoming president in the future. "We'll see…maybe one day. That's very nice of him."
scowan@postmedia.com